Art-Pacific Home | Site map | Artifact of the month | Guide to Artifacts &gt China: Bai Artifacts TOC
Art-Pacific (Carolyn Leigh - Ron Perry): Guide to Artifacts
China: Bai textiles, woodblock prints and farmers' market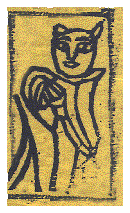 Detail of cat from Bai woodblock print on handmade yellow paper.
Browse OCEANIC ART:
INDONESIAN ART:
CHINA: BAI TEXTILES/ART:
Art-Pacific Home | Site map | top of page
Collecting New Guinea art in the field since 1964.

https://www.art-pacific.com/tocchina.htm | Contact Us | Art-Pacific at https://www.art-pacific.com/
Artifacts on this site were collected in the field by my husband, Ron Perry. I take the photographs, do the html, text and maps. Background in Who We Are. Art-Pacific has been on the WWW since 1996. We hope you enjoy our New Guinea tribal art and Indonesian folk art as much as we do.
Art-Pacific.com by Carolyn Leigh is licensed under Creative Commons CC BY-ND 4.0