Art-Pacific home | Site map | Guide to artifacts > New Guinea artifacts > Karawari River and Blackwater River Map
Art-Pacific (Carolyn Leigh - Ron Perry): Guide to Artifacts
Karawari River and Blackwater River Map, East Sepik Province, Papua New Guinea
buy New Guinea art from JungleOutpost.com and NewGuineaArt.com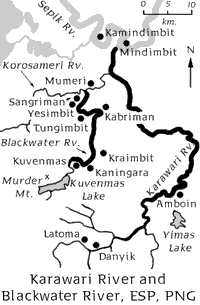 Figure 1: One-leg hook figure (wanleg) from the Korosameri - Blackwater River area.
The Blackwater, Korosameri and Karawari Rivers join to form a south tributary of the middle Sepik River. The language groups living along the rivers and in the rugged country in between have their own distinctive styles. Some villages incorporate Iatmul influences from the Sepik. A typical figure is the one-leg carving.
Wanleg carvings are basically two-dimensional. Small ones are carried in men's bilums as amulets. Larger ones are displayed in the ceremonial Haus Tambarans. Wanleg is Pisin English for any figure of this style. Visually similar styles are seen in the Karawari River area.
Blackwater River Carvings | Karawari River Carvings | Mumeri Village
Note: Place name spellings are variable in the literature (even in this site): Korosameri - Korosemeri - Krosmeri, Karawari - Korewori, Mumeri - Numeri, Kabriman - Kapriman, Kaningara - Kaninggara, Kuvenmas - Kuvemas - Govenmas - Governas.
buy New Guinea art from JungleOutpost.com and NewGuineaArt.com
Order now: Art Dealer in the Last Unknown, Ron Perry and New Guinea Art, the early years: 1964 - 1973 by Carolyn Leigh and Ron Perry, 320 pages of adventure, over 450 early photographs - join Ron in the jungles of New Guinea on his search for tribal art.
Browse OCEANIC ART:
INDONESIAN ART:
CHINA: BAI TEXTILES/ART:
Collecting New Guinea art in the field since 1964.

https://www.art-pacific.com/artifacts/nuguinea/sepikriv/blkwater/rivermap.htm | Contact Us | Art-Pacific at https://www.art-pacific.com/
Artifacts on this site were collected in the field by my husband, Ron Perry. I take the photographs, do the html, text and maps. Background in Who We Are. Art-Pacific has been on the WWW since 1996. We hope you enjoy our New Guinea tribal art and Indonesian folk art as much as we do.
Art-Pacific.com by Carolyn Leigh is licensed under Creative Commons CC BY-ND 4.0