Art-Pacific Home | Site map | Dealers and Galleries | Guide to Artifacts > Building a Collection
Art-Pacific (Carolyn Leigh - Ron Perry): Guide to Artifacts
Building a Collection
In the beginning, buy an artifact because you like it. Take the piece home and live with it for awhile. Then go out and look some more. Ask questions. Most gallery owners and staff enjoy talking to people who share their enthusiasm.
There are many different types of collections. Some collectors want to live with an interesting variety of artifacts that they enjoy. Others want a range of examples of a particular type or style of artifact or geographic area. Still others want only a few pieces of very high quality and are constantly on the lookout for a better example in their area of interest.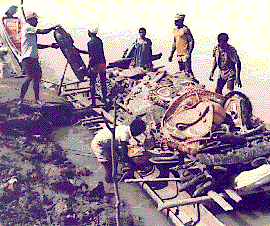 Figure 1: Carvers and their line unloading a Blackwater River gable mask off a double canoe at Timbunke, East Sepik Province., Papua New Guinea, mid-1980s.
Read books and magazines, go to museums, visit galleries and shops when you travel. If the pieces you like are from a particular area, find out more about that area and its art.
If you consistently buy what you enjoy, the pieces will all work well together in your home, so don't worry about matching colors or styles. People who love and collect tribal art have a special eye and their living and work areas reflect this.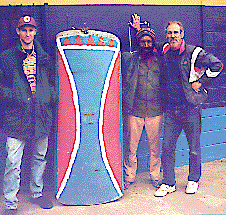 Figure 2: Scott, John and Ron with shield in Mt. Hagen, Papua New Guinea, 1997. For more see New Guinea Shields.
Old is relative in the tropics. Unless an artifact has been taken out of the village, it typically has a short life span because of the humidity, termites, and fire. When a ceremony is finished, or a piece no longer seems to have power, or its owner dies, it often is discarded. Everyday items such as canoes and house posts rot. We buy the crocodile head prows from old canoes, so the villagers cut them off and save them for us.
Just because a piece is old, does not necessarily mean it is more valuable. Artistic quality, its condition - whether it has been restored and how well, rarity, whether it previously belonged to someone famous or was part of a well regarded collection, whether the previous ownership (provenience) is documented, all have a bearing on the price. Catalogs can give you a feel for this, but nothing substitutes for becoming familiar with the real pieces.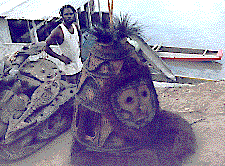 Figure 3: Pius loading Mindimbit Village tumbuan on the "Sepik Patrol", Sepik River, East Sepik Province, Papua New Guinea, 1997.
In New Guinea villages, masks and other items are stored in the rafters between ceremonies. The paint wears off or is covered with smoke from cooking and mosquito fires. Before a ceremony, the carvings are taken down, cleaned and repainted, decorated with feathers, flowers, ornamental fruits and colorful leaves such as crouton. Ceremonies are very lively and the costumes bright. It's hard to tell that in the galleries because the Western market values "old" and "used" pieces. Therefore "primitive art" in galleries tends to be dark wood with only fragments of the original color.
Another reason for this is the agricultural and environmental restrictions on importation of feathers and other products. Beautiful feathers are quite valuable in New Guinea. They are removed from the masks between dances, wrapped carefully and stored. It is unusual to find anything other than chicken or the common cassowary feathers on a mask that is being offered for sale.
There are restrictions on what may be legally exported. The National Museum in Port Moresby issues export permits for all artifacts exported from Papua New Guinea. They also maintain a gazetted list of pieces which are national cultural property and may not be exported. There are further restrictions, including anything made before 1960, traditional stone tools, human remains and Bird of Paradise feathers. Indonesia is mostly concerned with antique items from their numerous archeological sites. There are not many fakes in New Guinea or Indonesian art because the prices for most pieces are still quite reasonable.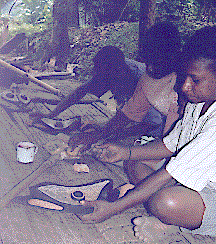 Figure 4: Carvers in Tambanum Village, East Sepik Province, Papua New Guinea, 1997
Craftspeople in Indonesia often work in extended family workshops where each person constructs part of the finished item. Some villages specialize in a particular form or part of a final form. Much of Indonesia has a history of highly developed court cultures that sponsored groups of craftspeople and provided a market for their products, just as in Europe.
Other more remote areas have a pattern similar to New Guinea where the demand is village based, although some items were traded extensively. In New Guinea, the Chambri potters of the Sepik River trade their clay storage pots and fireplaces all along the river, and the coastal Kula Trade routes are well documented in the anthropological literature.
Wood carvers and painters of bark panels are almost always men. Potters may be male or female depending on the region. Men construct the towering cane and tapa cloth masks. Women twine the ubiquitous string bags (bilums), plait baskets, and make jewelry (bilas.)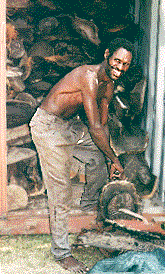 Figure 5: Bom packing artifacts in 20 ton container, Wewak, East Sepik Province, Papua New Guinea, 1997.
Traders in artifacts, whether they are local or expatriate, go to a lot of work to get pieces out of the jungle villages and into the galleries. One of our friends has figured that her out-of-pocket expenses on a month long collecting patrol in New Guinea for such things as motor and canoe hire, fuel, airline tickets, shipping costs, etc., triple the cost of a piece in the village.
So, if a carving costs $20 USD on the Sepik River, it costs over $60 USD to land it on the West Coast of the United States. This does not include any expenses once it's landed. A gallery typically keystones a piece i.e. doubles the price they pay to the trader in order to cover their own overhead of rent, staff, etc. The artifact now costs at least $120 USD, but it's come a long way by dugout canoe, truck, ocean container and more to reach you - enjoy it.
Bark Paintings has a Diary Entry on Buying in the Angoram Haus Tambaran.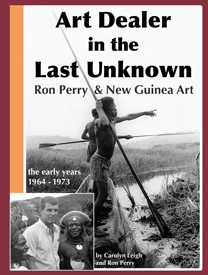 Exhibition calendar: buy direct from us during the Tucson Gem and Mineral Show more info
Order now: Art Dealer in the Last Unknown, Ron Perry and New Guinea Art, the early years: 1964 - 1973 by Carolyn Leigh and Ron Perry, 320 pages of adventure, over 450 early photographs - join Ron in the jungles of New Guinea on his search for tribal art.
New Guinea Tribal Art eGuide by Carolyn Leigh with Ron Perry and Doug Mehaffey. Find out about your fabulous piece of New Guinea tribal art. The eGuide provides quick info about New Guinea art and art areas with links to more information. The eGuide contains over 130 photographs and 10 maps, plus adventure photos from Ron's explorations in New Guinea. Buy now from Amazon or from the Apple Store through iTunes for all your electronic book readers - only $3.99.
Browse OCEANIC ART:
INDONESIAN ART:
CHINA: BAI TEXTILES/ART:
Art-Pacific Home | Site map | top of page
Collecting New Guinea art in the field since 1964.

https://www.art-pacific.com/collect.htm | Contact Us | Art-Pacific at https://www.art-pacific.com/
Artifacts on this site were collected in the field by my husband, Ron Perry. I take the photographs, do the html, text and maps. Background in Who We Are. Art-Pacific has been on the WWW since 1996. We hope you enjoy our New Guinea tribal art and Indonesian folk art as much as we do.
Art-Pacific.com by Carolyn Leigh is licensed under Creative Commons CC BY-ND 4.0