Art-Pacific home | Site map | Guide to artifacts > New Guinea artifacts > Pigment, Oil, Skin > Pigment for Color...
Art-Pacific (Carolyn Leigh - Ron Perry): Guide to Artifacts
Pigment for Color...
buy traditional jewelry from JungleOutpost.com and NewGuineaArt.com
Face and body paint are part of a complex process of preparation requiring the combined efforts of whole families and clans. Formerly, most pigments came from natural clays in yellow, white and rust colors. Sometimes these are baked in leaf packets to intensify the color. Other sources are vegetable dyes, charcoal and powdered white lime from shells.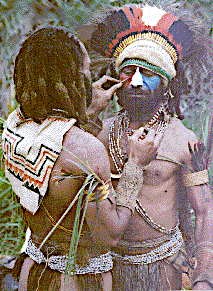 Now trade stores sell packets and bottles of commercial paints which are favored for their ease of use and more brilliant colors. It also shows that the family has the extra money to spend on status goods.
These dreadlock warriors, possibly from the Eastern Highlands, are using a chewed twig paintbrush to apply colors. They have barkcloth shoulder capes, headbands of green beetles and marsupial fur, plus individually wrapped fine bundles of parrot and other feathers to make up the headdresses.
White clay is sometimes replaced by trade store and school paints and recently with typewriter white-out fluid. Although it's a bright white and easier to prepare and apply than pigment, the bottle top brush that this woman is using gives a sloppier line than store or twig brushes.
Young girls dance to attract suitable husbands by showing off their families ability to gather and display wealth. Valuable feathers may be given as gifts or in thanks for a favor. Other pieces may be borrowed or loaned out to someone else in turn. Link to Painted Faces 3 for a close-up of a beautifully completed face.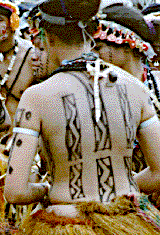 The coastal people in some parts of New Guinea, especially those involved with the Kula trade, used to do extensive tattoos. The girls and women received specific tattoos at different ceremonial stages of their lives, as well as important tattoos that showed completion of successful trade voyages by their fathers and husbands. Only women from high ranking families would have these complex tattoos.
Now only a few older women have these full body tattoos, although many people still acquire smaller tattoos. Marking pens are used instead for temporary large "tattoos" both for traditional dances and modern events like beauty contests.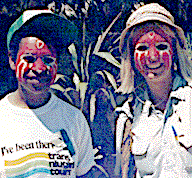 One year my friend Joan, who is from Banz near Hagen, had her family paint our faces in matching red and white clay. It dried to a fine crackle. The next day, Ron paid the Hulis to paint my face in their vivid yellow paint. This had a different base and stayed flexible, but sticky. All day my loose, straight hair kept blowing into the paint. I would have to carefully run my fingers along the edge of my face to unstick it without ruining the design.

Photographs copyright Carolyn Leigh and Scott Lewis Perry, 1998.




See also:
Painted Faces 4 for a Mendi warrior from the Southern Highlands Province with white clay accenting his beard and red clay rubbed into the kina shell on his moka neck piece.
Painted Faces 6 for red pigment in a Waghi warrior's beard and face paint that compliments the red parrot feathers in his headdress, Western Highlands Province.
buy traditional jewelry from JungleOutpost.com and NewGuineaArt.com
Order now: Art Dealer in the Last Unknown, Ron Perry and New Guinea Art, the early years: 1964 - 1973 by Carolyn Leigh and Ron Perry, 320 pages of adventure, over 450 early photographs - join Ron in the jungles of New Guinea on his search for tribal art.
Browse OCEANIC ART:
INDONESIAN ART:
CHINA: BAI TEXTILES/ART:
Art-Pacific Home | Site map | top of page
Collecting New Guinea art in the field since 1964.

https://www.art-pacific.com/artifacts/nuguinea/bilas/bodyart/pigment/pigmenta.htm | Contact Us | Art-Pacific at https://www.art-pacific.com/
Artifacts on this site were collected in the field by my husband, Ron Perry. I take the photographs, do the html, text and maps. Background in Who We Are. Art-Pacific has been on the WWW since 1996. We hope you enjoy our New Guinea tribal art and Indonesian folk art as much as we do.
Art-Pacific.com by Carolyn Leigh is licensed under Creative Commons CC BY-ND 4.0