BILAS > Shells are Gold - Kinas

Art-Pacific (Carolyn Leigh - Ron Perry): Guide to Artifacts
Shells are Gold - Kinas
buy traditional jewelry from JungleOutpost.com and NewGuineaArt.com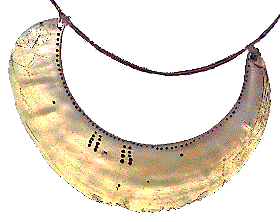 The gold-lipped pearl shell is cut into crescent shapes called kina. Small dots are drilled to accentuate the shape.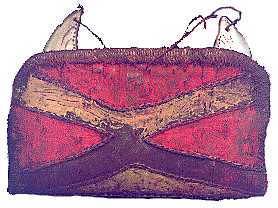 Kina shells have their own cases just like jewelry boxes. This one is made of bark.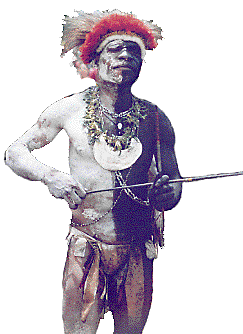 Both of these warriors wear kina shells as the focal point of their dress.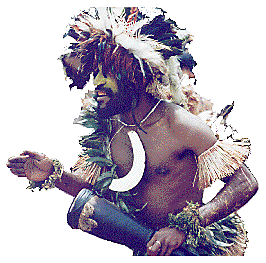 This broken kina shell would not be considered valuable for ceremonial payment, but it is still good for a dance.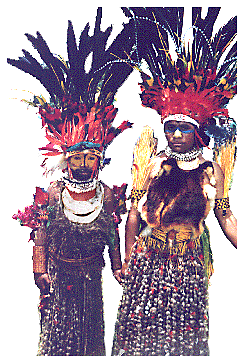 Two Highland girls display their wealth.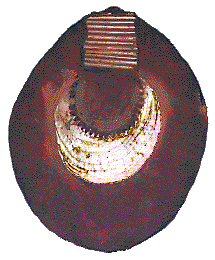 When a kina is used as payment a in ceremony, it may be mounted onto a oval clay-covered display board called a moka and stained with bright red dyes.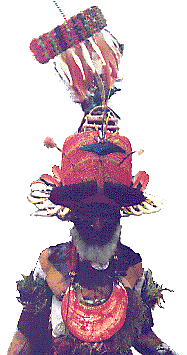 Wigman with red-stained kina shell necklace.
BACK to Shells are Gold | Tooth and Bone | String and Things
buy traditional jewelry from JungleOutpost.com and NewGuineaArt.com
Order now: Art Dealer in the Last Unknown, Ron Perry and New Guinea Art, the early years: 1964 - 1973 by Carolyn Leigh and Ron Perry, 320 pages of adventure, over 450 early photographs - join Ron in the jungles of New Guinea on his search for tribal art.
Browse OCEANIC ART:
INDONESIAN ART:
CHINA - BAI TEXTILES:
Collecting New Guinea art in the field since 1964.
Art-Pacific Home | Site map | top of page

Photographs, text and maps copyright © Carolyn Leigh, 1996-2011. All rights reserved.
http://www.art-pacific.com/artifacts/nuguinea/bilas/traditional/kina.htm
Contact Us
Artifacts on this site are collected in the field by my husband, Ron Perry. I take the photographs, do the html, text and maps. More background in Who We Are. Art-Pacific has been on the WWW since 1996. We hope you enjoy our New Guinea tribal art and Indonesian folk art as much as we do. Carolyn Leigh, P.O. Box 85284, Tucson, AZ 85754-5284 USA, Art-Pacific at http://www.art-pacific.com/