New Guinea Shields > Ramu River Shields

Art-Pacific (Carolyn Leigh - Ron Perry): Guide to artifacts
Ramu River Shields, Papua New Guinea

The Ramu River basin in Madang Province parallels the larger Sepik River basin. During the rainy season, the two form a single flood plain. The population density is much lower on this smaller river and the villages farther apart.
The first two shields are from the Rao language group. In The Seized Collections, A. Kasprus (The Tribes of the Middle Ramu and the Upper Keram Rivers, 1973) is quoted:
According to Kasprus, all Rao shields have basically the same design, symbolizing the mask of the Ndaro. Ndaro is the name of a powerful supernatural being who occupies a central place in Rao religion. Shields are usually pierced near the rim for attachment of a carrying strap. Rao shields are used as a defense weapon in combination with bow and arrows. The Rao do not manufacture spears. Although they barter spears from the neighboring Breri, they do not seem to use them as fighting weapons but hold them "as trophies or showpieces."
The first shield is unusual in that the basketry weaving is still intact on the lower part of the shield. The addition of the bas-relief figure is not common. The second shield is more typical, including the fact that it has lost its woven basketwork.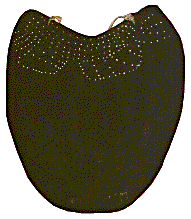 The third shield is a breastplate shield from Usino Village at the top of the Ramu River, near the Markham Valley. The dot design is accentuated with white lime pigment.
SEE ALSO:
Internal Links
Books
The Seized Collections
text by Dirk Smidt,
The Creative Arts Center and Papua New Guinea Museum, 1975
Upper Keram and Middle Ramu, pp. 87-95.
Previous | Next: Asmat Shields
Order now: Art Dealer in the Last Unknown, Ron Perry and New Guinea Art, the early years: 1964 - 1973 by Carolyn Leigh and Ron Perry, 320 pages of adventure, over 450 early photographs - join Ron in the jungles of New Guinea on his search for tribal art.
Browse OCEANIC ART:
INDONESIAN ART:
CHINA - BAI TEXTILES:
Collecting New Guinea art in the field since 1964.
Art-Pacific Home | Site map | top of page

Photographs, text and maps copyright © Carolyn Leigh, 1996-2011. All rights reserved.
http://www.art-pacific.com/artifacts/nuguinea/shields/ramu.htm
Contact Us
Artifacts on this site are collected in the field by my husband, Ron Perry. I take the photographs, do the html, text and maps. More background in Who We Are. Art-Pacific has been on the WWW since 1996. We hope you enjoy our New Guinea tribal art and Indonesian folk art as much as we do. Carolyn Leigh, P.O. Box 85284, Tucson, AZ 85754-5284 USA, Art-Pacific at http://www.art-pacific.com/