Art-Pacific (Carolyn Leigh - Ron Perry): Guide to artifacts
Bai Minority Group Hats from Yunnan Province, China
Bai women are excellent embroiderers and proudly wear their traditional clothing. A baby girl wears colorful clothes made by her mother and grandmother including a fishtail-shaped cap, or a phoenix-head or lion-head cap.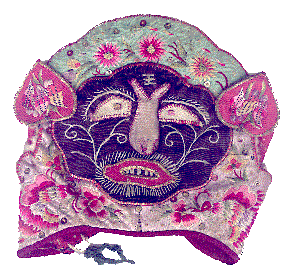 The Bai people say, "A horse needs a saddle to look good; people need beautiful clothes." (from Daughters of Mount Changshan and Erhai Lake, The Bais, by Yang Guocai)
More photographs and information on Bai hats
Browse China: Bai baby-carriers | Bai hats | Bai woodblock prints
Browse OCEANIC ART:
INDONESIAN ART:
CHINA - BAI TEXTILES:
Collecting New Guinea art in the field since 1964.
Art-Pacific Home | Site map | top of page

Photographs, text and maps copyright © Carolyn Leigh, 1996-2011. All rights reserved.
http://www.art-pacific.com/artifacts/china/baihatsc.htm
Contact Us
Artifacts on this site are collected in the field by my husband, Ron Perry. I take the photographs, do the html, text and maps. More background in Who We Are. Art-Pacific has been on the WWW since 1996. We hope you enjoy our New Guinea tribal art and Indonesian folk art as much as we do. Carolyn Leigh, P.O. Box 85284, Tucson, AZ 85754-5284 USA, Art-Pacific at http://www.art-pacific.com/