Art-Pacific Home | Site map | Guide to Artifacts | Dealers and Galleries

Art-Pacific (Carolyn Leigh - Ron Perry)

Dealers and Galleries

Artifacts used to illustrate the articles on this site, Art-Pacific.com, are not for sale. Please visit some of the dealers and art galleries we work with for similar pieces:
**Order Online!** at Joe Maierhauser's NewGuineaArt.com aka Tribal-Artifacts.com

AND and his family's Reptile Gardens Jungle Outpost at JungleOutpost.com

Exhibition calendar: buy direct from us at the Tucson Gem and Mineral Show at - New Guinea Tribal Art - a once a year collaboration between Art-Pacific.com and NewGuineaArt.com - more info

**Order Online!** Havaiki Oceanic and Tribal Art - Bringing Culture to Your World - Hanalei, Kauai, Hawaii
Antique tribal art and design from Oceania, Africa and North America

Doug Mehaffey - art and artifact restoration services
dkmehaffey at comcast.net for further information.
Order now: Art Dealer in the Last Unknown, Ron Perry and New Guinea Art, the early years: 1964 - 1973 by Carolyn Leigh and Ron Perry, 320 pages of adventure, over 450 early photographs - join Ron in the jungles of New Guinea on his search for tribal art.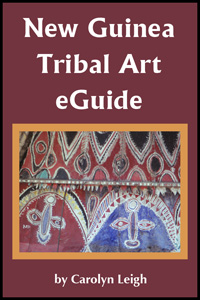 New Guinea Tribal Art eGuide
by Carolyn Leigh with Ron Perry and Doug Mehaffey

Find out about your fabulous piece of New Guinea tribal art. The eGuide provides quick info about New Guinea art and art areas with links to more information. The eGuide contains over 130 photographs and 10 maps, plus adventure photos from Ron's explorations in New Guinea.

Buy now from Amazon or from the Apple Store through iTunes for all your electronic book readers - only $3.99.




Browse OCEANIC ART:


INDONESIAN ART:
CHINA - BAI TEXTILES:


Collecting New Guinea art in the field since 1964.

Art-Pacific Home | Site map | top of page

Photographs, text and maps copyright © Carolyn Leigh, 1996-2013. All rights reserved.
http://www.art-pacific.com/gallery/gallmain.htm
Contact Us
Artifacts on this site are collected in the field by my husband, Ron Perry. I take the photographs, do the html, text and maps. More background in Who We Are. Art-Pacific has been on the WWW since 1996. We hope you enjoy our New Guinea tribal art and Indonesian folk art as much as we do. Carolyn Leigh, P.O. Box 85284,Tucson, AZ 85754-5284 USA, Art-Pacific at http://www.art-pacific.com/