Melanesian Art TOC (New Guinea, Solomon Islands, etc)
buy New Guinea art from JungleOutpost.com and NewGuineaArt.com
Tribal art from Papua New Guinea, Papua (formerly Irian Jaya) and the Solomon Islands
Art areas of Melanesia (map of New Guinea and adjacent islands) brief descriptions of areas, links to articles
Artifacts from Papua (formerly Irian Jaya) are included in these articles:
Abelam Basket Yam Masks and Tops, ESP, PNG
Abelam Wooden Yam Masks, ESP, PNG
Barkcloth (tapa), Oro Province, PNG
Basket (Suspension) Hooks from Papua New Guinea
BILAS - Traditional Jewelry in Papua New Guinea
Shells are Gold | Tooth and Bone | String and Things
Bundi barkcloth butterfly dancers, Madang Province, PNG
Canoes and Canoe Prows from Papua New Guinea and Papua (Irian Jaya)
Chambri Pottery from Aibom Village, Chambri Lakes, ESP, PNG
Dollies and Dreams - Small fiber figures from the Sepik River basin, ESP, PNG
Karawari River and Blackwater River carvings and map ESP, PNG
Blackwater River Carvings | Mumeri Village | Karawari River Carvings
Malagan and other New Ireland funeral art, New Ireland Province, PNG
Massim: Trobriand Islands and Kula exchange, Milne Bay Province, PNG includes Kula Ring map, plus Karumosa, a Kula canoe
New Britain artifacts, East and West New Britain Provinces, PNG
Sulka masks | Sulka dance information | Baining dances and bark cloth masks | Tolai tubuan and dukduk masks
Papuan Gulf artifacts and map, PNG
Papuan Gulf Carvings | Papuan Gulf Masks | Gogodala | Angu (Kukukuku)
Sepik River carvings and map, ESP, PNG

Solomon Islands jewelry, carvings and map
crafts | jewelry | cutting shell disks | note on shell money | links, books, map, diary entries
Masks from the Middle Sepik River, ESP, PNG
Painted Faces - Beauty and Power
Photography Portfolio by Scott Perry from the Mt. Hagen Show, PNG
Pigment, Oil, Skin - Body Painting at the Mt. Hagen and Goroka Shows, PNG
Phallocrypts from Papua (Irian Jaya) and Papua New Guinea
Shields from Papua New Guinea and Papua (Irian Jaya)
Highlands Shields | Upper Sepik River Shields | Ramu River Shields | Asmat Shields | Body Armor
Story Boards from Bark Paintings, Keram River, ESP, PNG
Bark Paintings | Story Boards
Weapons from Papua New Guinea and Papua (Irian Jaya)
Axes and Clubs | Bone Knives and Bone Daggers | Bows and Arrows | Spears and Atlatls
Order now: Art Dealer in the Last Unknown, Ron Perry and New Guinea Art, the early years: 1964 - 1973 by Carolyn Leigh and Ron Perry, 320 pages of adventure, over 450 early photographs - join Ron in the jungles of New Guinea on his search for tribal art.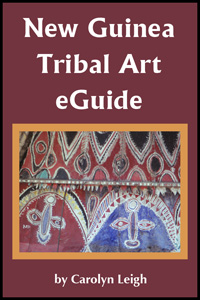 New Guinea Tribal Art eGuide by Carolyn Leigh with Ron Perry and Doug Mehaffey. Find out about your fabulous piece of New Guinea tribal art. The eGuide provides quick info about New Guinea art and art areas with links to more information. The eGuide contains over 130 photographs and 10 maps, plus adventure photos from Ron's explorations in New Guinea. Buy now from Amazon or from the Apple Store through iTunes for all your electronic book readers - only $3.99.
buy New Guinea art from JungleOutpost.com and from NewGuineaArt.com
Diary entries on this site: 1967: Karawari Hooks Come Out - 1970s: Kandangai Headhunter - 1974: Trek from Kainantu to Marawaka with 130 Angu warriors - 1985: Blackwater River up to Kuvenmas Village - 1986: Broken Water Bay and the Watam Baret - 1986: PMV (Public Motor Vehicle) service between the Ramu and the Keram Rivers - 1986: Lower Ramu Masks - 1986: Buying in the Angoram Haus Tambaran - 1990s: Village Houses in the Sepik-Ramu River Basin
For news/links for PNG, we recommend Trevor Michie's PNG Gossip Newsletter at http://www.pnggossip.com/
Music of Papua New Guinea hosts digitalized recordings of traditional and contemporary music at http://www.theperryproject.org/music-of-papua-new-guinea.html
Browse OCEANIC ART:
INDONESIAN ART:
CHINA - BAI TEXTILES:
Collecting New Guinea art in the field since 1964.
Art-Pacific Home | Site map | top of page

Photographs, text and maps copyright © Carolyn Leigh, 1996-2020. All rights reserved.
http://www.art-pacific.com/artifacts/nuguinea/tocnugui.htm
Contact Us
Artifacts on this site are collected in the field by my husband, Ron Perry. I take the photographs, do the html, text and maps. More background in Who We Are. Art-Pacific has been on the WWW since 1996. We hope you enjoy our New Guinea tribal art and Indonesian folk art as much as we do. Carolyn Leigh, P.O. Box 85284, Tucson, AZ 85754-5284 USA, Art-Pacific at http://www.art-pacific.com/