Karawari River and Blackwater River Map > Mumeri Village

Art-Pacific (Carolyn Leigh - Ron Perry): Guide to Sepik River Carvings
Mumeri Village, East Sepik Province, Papua New Guinea
buy New Guinea art from JungleOutpost.com and NewGuineaArt.com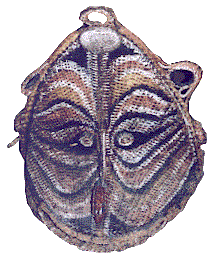 The Mumeri people originally came from Kamindimbit Village on the Sepik. During WWII, the elders worried that bombing raids might wipe out their whole village, so some of the people moved up the Korosameri River to its junction with the Blackwater River for safety.
Basketry birds and large woven gable masks like this one are very representative of the traditional fiber work of the Mumeri woman. The men's Haus Tambaran is divided between two clans. They carve clan and ancestor figures and also make beautiful flutes.

Sacred flutes are played, usually in pairs, during ceremonies and initiations in the Sepik villages. They are considered to be the voices of the clans' ancestor spirits. Traditionally, village women, children and uninitiated men are not allowed to see the flutes being played.
The flutes are constructed of lengths of bamboo or cane. Their elaborately carved wooden stoppers depict human, animal or bird totems. The figures are bilased with feathers, shell, seeds and clay-based paints. The long flutes have a low, melodic tone which resonates into the damp, tropical air. When two experienced men play a pair of the shorter flutes, their lively duet bounces back and forth like jazz.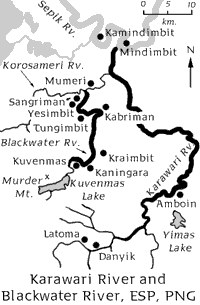 SEE ALSO:
Internal Links
buy New Guinea art from JungleOutpost.com and from NewGuineaArt.com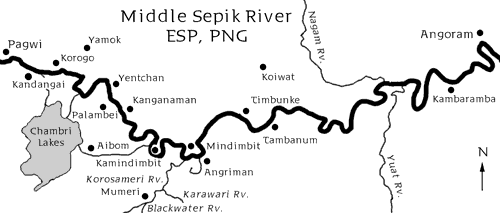 More articles/photos of NEW GUINEA MASKS:
Order now: Art Dealer in the Last Unknown, Ron Perry and New Guinea Art, the early years: 1964 - 1973 by Carolyn Leigh and Ron Perry, 320 pages of adventure, over 450 early photographs - join Ron in the jungles of New Guinea on his search for tribal art.
Browse OCEANIC ART:
INDONESIAN ART:
CHINA - BAI TEXTILES:
Collecting New Guinea art in the field since 1964.
Art-Pacific Home | Site map | top of page

Photographs, text and maps copyright © Carolyn Leigh, 1996-2011. All rights reserved.
http://www.art-pacific.com/artifacts/nuguinea/sepikriv/blkwater/mumeri.htm
Contact Us
Artifacts on this site are collected in the field by my husband, Ron Perry. I take the photographs, do the html, text and maps. More background in Who We Are. Art-Pacific has been on the WWW since 1996. We hope you enjoy our New Guinea tribal art and Indonesian folk art as much as we do. Carolyn Leigh, P.O. Box 85284, Tucson, AZ 85754-5284 USA, Art-Pacific at http://www.art-pacific.com/