Art-Pacific (Carolyn Leigh - Ron Perry): Guide to artifacts
Phallocrypts from Papua New Guinea and Papua (Irian Jaya), Indonesia
buy phallocrypts from JungleOutpost.com and NewGuineaArt.com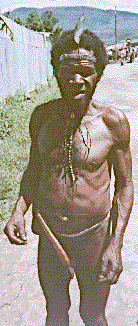 In remote areas, like the Baliem Valley of Irian Jaya, Indonesia, phallocrypts are still worn by men as everyday dress. They may also be worn in Papua New Guinea during ceremonies.
Figure 1: This Dani man walked into Wamena, Irian Jaya, Indonesia from his village in the Baliem Valley. His gourd sheath is called a koteka. It is supported by a thin string around his waist.
Figure 2: Three gourd phallocrypts from the Sepik River in Papua New Guinea. The women have woven a knotted design made from bilum string around each gourd and added seeds for tassels. The ones made for sale to tourists can be quite elaborate with woven faces and lots of seed and shell decorations.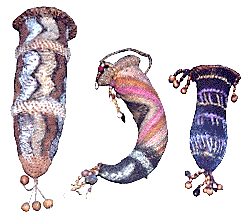 More photographs and information on phallocrypts
buy phallocrypts from JungleOutpost.com and from NewGuineaArt.com
Order now: Art Dealer in the Last Unknown, Ron Perry and New Guinea Art, the early years: 1964 - 1973 by Carolyn Leigh and Ron Perry, 320 pages of adventure, over 450 early photographs - join Ron in the jungles of New Guinea on his search for tribal art.
Browse OCEANIC ART:
INDONESIAN ART:
CHINA - BAI TEXTILES:
Collecting New Guinea art in the field since 1964.
Art-Pacific Home | Site map | top of page

Photographs, text and maps copyright © Carolyn Leigh, 1996-2011. All rights reserved.
http://www.art-pacific.com/artifacts/nuguinea/bilas/phallocc.htm
Contact Us
Artifacts on this site are collected in the field by my husband, Ron Perry. I take the photographs, do the html, text and maps. More background in Who We Are. Art-Pacific has been on the WWW since 1996. We hope you enjoy our New Guinea tribal art and Indonesian folk art as much as we do. Carolyn Leigh, P.O. Box 85284, Tucson, AZ 85754-5284 USA, Art-Pacific at http://www.art-pacific.com/