Art-Pacific (Carolyn Leigh - Ron Perry): Guide to artifacts
Abelam Wooden Yam Masks - East Sepik Province, Papua New Guinea
buy New Guinea yam masks and tumbuans from JungleOutpost.com and NewGuineaArt.com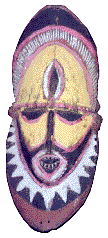 The Abelam say that their yams were given to the them by Wapikan, along with rules for living properly. As long as they followed this path, the yams grew easily. However, they drifted away from Wapikan's ideals and he killed himself in despair. After that, the yams only grew with very hard work.
Figure 1: Abelam wooden yam mask
Harvest yam linings are a high point of ceremonial display and exchange. During the yam lining, wooden yam masks and balsa wood heads are used, along with basket yam masks, to create the nggwal spirits of the long yams. Carved wooden faces are often are backed with a fan. The fans may be woven basket ones, or made of closely woven and clipped cassowary feathers or wooden ones called deoo that are carved from lightweight balsa. The fans are also mounted on cane frameworks and worn by dancers as headdresses during the men's initiation ceremonies.
Common colors are reds, yellows and whites from clay ochres and black from charcoal and soot. Several intense reds come from plants, as does a blue. Colors have magical powers; for example, white is used to make the long yams grow.
All initiated men are expected to carve with the more experienced men supervising the work, or a man may pay a better carver to carve for him. The best carvers are recognized as being more spiritually powerful.
Although Abelam art follows traditional ideals, each man's pieces may be unique and are his creation and interpretation of Ablelam spiritual power. Carvings are seen as temporary and are often discarded after use, as the carvers know they can always create more. Some carvings are considered too powerful to keep after the ceremony is over and are carried away a safe distance from the village and left in the jungle.
More photographs and information on wooden yam masks
buy New Guinea yam masks tumbuans from JungleOutpost.com and from NewGuineaArt.com
More articles/photos of NEW GUINEA MASKS:
Order now: Art Dealer in the Last Unknown, Ron Perry and New Guinea Art, the early years: 1964 - 1973 by Carolyn Leigh and Ron Perry, 320 pages of adventure, over 450 early photographs - join Ron in the jungles of New Guinea on his search for tribal art.
Browse OCEANIC ART:
INDONESIAN ART:
CHINA - BAI TEXTILES:
Collecting New Guinea art in the field since 1964.
Art-Pacific Home | Site map | top of page

Photographs, text and maps copyright © Carolyn Leigh, 1996-2011. All rights reserved.
http://www.art-pacific.com/artifacts/nuguinea/yamwoodc.htm
Contact Us
Artifacts on this site are collected in the field by my husband, Ron Perry. I take the photographs, do the html, text and maps. More background in Who We Are. Art-Pacific has been on the WWW since 1996. We hope you enjoy our New Guinea tribal art and Indonesian folk art as much as we do. Carolyn Leigh, P.O. Box 85284, Tucson, AZ 85754-5284 USA, Art-Pacific at http://www.art-pacific.com/