Art-Pacific home | Site map | Guide to artifacts > New Guinea artifacts > Solomon Islands TOC &gt jewelry | cutting shell disks | shell money | Solomon Islands crafts
Art-Pacific (Carolyn Leigh - Ron Perry): Guide to Artifacts
Solomon Islands crafts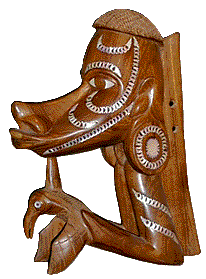 Figure 1: Nguzunguzu canoe prow figurehead holding a bird. The carver included the flange to lash this prow to a war canoe, even though it was carved to sell. Nguzunguzu originated in the western Solomons, but are now a national symbol (1).
Huge headhunting war canoes from Malaita and the western Solomons were built with wood planks sewn together with creeper and caulked with putty nut. Each carried 30 or more warriors. Malaita fleets had up to 50-60 canoes.
Tall, slender prows were inlaid with mother-of-pearl and ornamented with strings of cowry shells. Nguzunguzu are small relative to these large prows. One was attached to the prow just above water line. The figureheads were stained black and inlaid with shell, matching the canoes.
Nguzunguzu war gods watched out for enemies, reefs and sand bars, calmed the seas and kept away evil water spirits. Nguzunguzu may hold heads, skulls or birds in their hands. Skulls were believed to contain the life force, so head-hunting transferred power from the victims to the warriors.
Birds may have represented navigators like the frigate bird which are used to spot bonito schools. Nguzunguzu birds are now sometimes called "birds of peace."

Figure 2: Bonito hook with pearl shell lure and carved turtle shell hook lashed on with a shell and yarn tassel. Most lures resemble fish.
War and bonito fishing canoes were docked in decorated canoe sheds which were also ceremonial houses for the men and contained ancestor relics and skulls. In Langa Langa Lagoon these custom houses watched out from the seaward side of the artificial islands, while the villages were sited on the sheltered side facing inland.

Figure 3: Fishing float (?) collected from Malaita custom house in the 1970's.
Pre-contact fishing ceremonies were very important, especially festivals for the beginning of bonito season. Dolphin hunts involved the whole community. Fish-shaped caskets were made for bones. Fishing is still the main source of protein for many people.
Kite fishing used a ball of sticky cobweb trailed from a pandanus or coconut leaf kite pulled from canoes to catch gar fish. Wood fishing floats are used in series with stone counterweights to catch flying fish. Polynesian villages had large wooden shark hooks. Metal hooks were used after contact.

Other canoes include small plank canoes for fishing, ocean going-outriggers with matting sails and deck houses and dugout canoes. There are both plain and highly decorated paddles including ceremonial paddle/clubs in museum collections. Model canoes are made for sale.
Figure 4: Ceremonial pudding bowl inlaid with frigate bird motif, photo courtesy of Taylor A. Dale - Tribal Arts, Santa Fe, New Mexico, USA.
Dark wood carvings are made from ebony or a softwood like milky pine (alstonia) stained black. Light-colored carvings are from kerosine wood (corsia subsordata) which burns easily. It is similar to walnut and polishes to a high finish.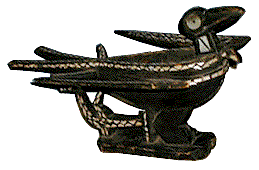 Carvings are shaped with an adz. Detailing is done with rats' teeth, metal files, obsidian flakes, broken glass and knives, some fashioned from old WWII wrecks. Finishing is done with pumice stone, shark or ray skin or leaves used as sand paper.
Shell inlay is cut from the pearl shell chambered nautilus (nautilus pompilius) and also ends of cone shells. Glue is crushed putty nut (Parinari glaberrima) which turns dark when dry or store glue. Some figures have shell inlay designs representing tattoos.
Figure 5: Bowl in the shape of a bird, possibly a hornbill, photo courtesy of Taylor A. Dale - Tribal Arts, Santa Fe, New Mexico, USA.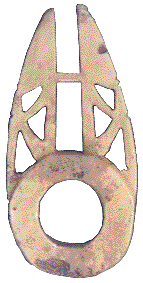 Figure 6: Zaru clam shell plaque of stylized seated figures, possibly from Roviana Lagoon. A girl gave one to the father of the boy she planned to marry.
Solomons Islanders value an item as "money" if it is passed between a number of people and is recognized and accepted as having a relatively set value. Some kinds of traditional exchange include:
Shell rings and plaques of different sizes and styles. Some rings were worn, including a heavy armlet used as a battering ram in battle. Plaques were cut from giant clam shells with fiber saws and stone drills. (2)
Cut shell money strings like the 10 strand tafuliae'.
Santa Cruz Island red feather money coils (touau), were made by specialists who inherited the skills and spells from their fathers. Feather sticks (noveapu) are still made. (3)
Thin cylinders of fossil clamshell (kesa) thought to be made by sea gods. 9 were bound in bundles of three on Choiseul and used in all kinds of ceremonial and competitive transactions. A man without any was worthless.

Figure 7: Lave lave shield, probably from New Georgia, acquired by Taylor A. Dale - Tribal Arts, Santa Fe, New Mexico, USA from an English collection from the 1850s. Photo courtesy of a private collection.
Most shields were made of resin-covered wickerwork. They are light and strong with a looped cane handle on back. The fiber on this one was stained black before being woven, on others the color is added later. A few Solomon Island shields are inlaid with shell, but only in museum collections; possibly the shell was added later. This style of shield is represented in a petroglyph in Hoilava River area. Other weapons include bows and arrows, spears including some tipped with human bone, sling shots, many varieties of stone-headed clubs and fighting sticks.

Figure 8: Head of a staff with orchid vine wickerwork, photo courtesy of Taylor A. Dale - Tribal Arts, Santa Fe, New Mexico, USA.
Musical instruments include panpipes of bamboo in groups of 4,8,10, 16+. The musicians are professionals who perform in groups. Single flutes are played by individuals. Traditional instruments are wooden drums, rattles, basketwork fans beaten against the hand, whistles and rhythm sticks. Stamping tubes in sets of 10 are played with stones like a xylophone. Modern bamboo bands use rubber thongs to play sets of bamboo as big as pianos.
Dance wands, carved coconut cups and bamboo lime containers with black incised designs accented with dye from charcoal and the euphorbia tree are still made.
Plaited baskets of many types are available at the markets. Buka, Bougainville and Choiseul coiled baskets were famous for their quality.
Barkcloth (tapa) is made plain for wrappings and stoppers and also decorated with sap or soot for black and turmeric for yellow. There is a type with pale blue leaf dye designs in museum collections. Fiber (grass) skirts were often part of bride price exchanges. Santa Cruz Islanders wove laplaps of banana leaf thread on backstrap looms.
Figure 9: Map of the Solomon Islands and Bougainville
SEE ALSO:
Links in this site:
Notes:
(1) Alternate spellings and terms for:
Nguzunguzu (term from Roviana Lagoon, New Georgia, now the most common name): nguzuNguzu, nguzu nguzu, nguzu-nguzu, nuzu nuzu, nuzunuzu, musumusu, toto isu (term from Marovo Lagoon, New Georgia), totoishu
head hunting canoe: tomoko (New Georgia)
bird or sea spirits: kesoko
(2) Types of shell rings and plaques
Shell rings

Mbakiha (erenge, tarkola, bakhia) is a clamshell ring with yellow/red streak on edge. Porcelain copies were made during colonial era.
Poata made from Tridacna gigas, plain white with less shine than mbakiha.
Mbarake is larger and rougher than other two.

There was also a type of heavy armlet used in battle, plus other variations.
Barava, mbarava and mbokomo are thick slabs of giant clam shell with figures, some include circle motifs. They were carried on war canoes, used for bride price, pig purchases, blood money and for grave ornaments (bokolo) that were broken at a chief's death.
(3) Santa Cruz feather money
Steps in making feather coils:

The specialist hunter snared the scarlet honey eater (Myzomela cardinalis, found only on the Santa Cruz islands) on a latex-covered decoy baited perch. The bird's red feathers were plucked and it was released alive, although the shock probably killed it. It took feathers from 300 birds to make a coil.
The platelet maker shot Pacific pigeons with his bow and arrow. He made base platelets of pigeon feathers, each tipped with the valuable red feathers.
The currency binder gummed and lapped these platelets on 2 bark fiber cords so that the roll appeared to be composed entirely of the valuable red feathers. These were attached to a bark ring and rolled from both ends to the center. The finished coil was up to 10 yards (10 metres) long.

The coils' value depended in part on their history of ownership in a trading ring cycle with Reefs and Taumako in exchange for women and canoes.
10 coils were necessary for bride price with the most valuable being the newest, down to the oldest with most of its feathers gone. Their value was graduated, 2x value of next one up. Concubines were worth 100 coils, because they did not bind families together. These women were treated very well, because they were so expensive.
Feather money is no longer made. The Solomon Islands National Museum in Honiara had a beautiful coil, but it was stolen along with a moon rock during the civil disturbances in 2000.
Order now: Art Dealer in the Last Unknown, Ron Perry and New Guinea Art, the early years: 1964 - 1973 by Carolyn Leigh and Ron Perry, 320 pages of adventure, over 450 early photographs - join Ron in the jungles of New Guinea on his search for tribal art.
Browse OCEANIC ART:
INDONESIAN ART:
CHINA: BAI TEXTILES/ART:
Collecting New Guinea art in the field since 1964.

https://www.art-pacific.com/artifacts/nuguinea/solomons/craftart.htm | Contact Us | Art-Pacific at https://www.art-pacific.com/
Artifacts on this site were collected in the field by my husband, Ron Perry. I take the photographs, do the html, text and maps. Background in Who We Are. Art-Pacific has been on the WWW since 1996. We hope you enjoy our New Guinea tribal art and Indonesian folk art as much as we do.
Art-Pacific.com by Carolyn Leigh is licensed under Creative Commons CC BY-ND 4.0