Art-Pacific home | Site map | Guide to artifacts > New Guinea artifacts > Solomon Islands TOC > crafts | jewelry | shell money | Cutting shell disks
Art-Pacific (Carolyn Leigh - Ron Perry): Guide to Artifacts
Cutting shell disks: Langa Langa Lagoon, Solomon Islands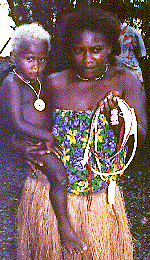 Cut shell disks are the major craft industry in Langa Langa Lagoon off Malaita Island. They are sold in local and regional markets including neighboring islands in Papua New Guinea.
hell beads are made into necklaces, belts and arm or chest bands. Other disks are strung for use as ceremonial money (tafuliae is one type) which is measured by the fathom (6 feet or about 2 m).
June 1999: Busu Village was booked for a cruise ship stop, but the boat never came. The tourist committee had set up a demonstration in the culture house. The women and girls usually work shell in their homes. They had put on grass skirts and laid out their jewelry for sale. They showed us their traditional way to shape shell. Even with more modern tools, it is a time consuming process.
Busu Village is built on an artificial island of coral blocks like the other villages in the lagoon. The people say they came here 500-600 years ago to escape fighting on the Malaita mainland. The homes shelter on the inward side. The men's ceremonial houses face the sea.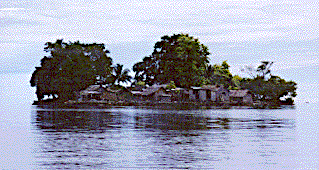 Flat disk beads are made from:
Red-lipped spondlylus, a spiny rock oyster (romu), is the most valuable because of its pink to red color. This 2 inch (5 cm) shell is also difficult to get at 6-7 fathoms and is only found at certain reefs. Disks may be heated to deepen their color.
Small white mussels (kakadu) are found everywhere. Some of these are heated to make more valuable colors, orange (faroga) or brown (kee) used for bride price.
Black-lip pearl shells (kurila) are about 1 foot (30 cm) in diameter and are found in shallow water.
Seeds, stems of bush plants and spacers made from turtle shell are also used in finished pieces.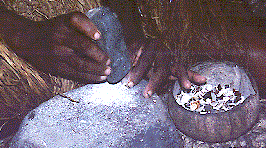 Shells are broken into small circles about twice their finished size. Metal cylinders often replace these stone hammers.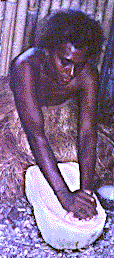 The rough disks are rubbed down to flattened them to an even thickness. Sometimes they are placed on a board with individual depressions to do this.
Each bead is drilled separately. Quartz nodules from Malaita rivers were flaked to make flints for pump drills. Now women use hand drills with steel bits.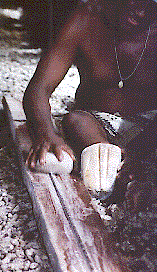 Disks are sometimes heated on hot stones to turn them a different or deeper color. Most valuable are red to pink, then orange, brown, black and white.
Disks are strung for the final step of smoothing them to a uniform size. Small, even strands take more work and are more valuable. This heavy work is done by the men. Shown are two old-style grooved stones. A fathom of disks is stretched taut on the board. The men grind down along its length with the stones using sand with water. Chinese grinding blocks are used today.
SEE ALSO:
Links in this site:
Double strand necklace of valuable red shell beads made by Anni Kalasi.

Figure 1: Map of the Solomon Islands and Bougainville
Order now: Art Dealer in the Last Unknown, Ron Perry and New Guinea Art, the early years: 1964 - 1973 by Carolyn Leigh and Ron Perry, 320 pages of adventure, over 450 early photographs - join Ron in the jungles of New Guinea on his search for tribal art.
Browse OCEANIC ART:
INDONESIAN ART:
CHINA: BAI TEXTILES/ART
Collecting New Guinea art in the field since 1964.

https://www.art-pacific.com/artifacts/nuguinea/solomons/cutshell.htm | Contact Us | Art-Pacific at https://www.art-pacific.com/
Artifacts on this site were collected in the field by my husband, Ron Perry. I take the photographs, do the html, text and maps. Background in Who We Are. Art-Pacific has been on the WWW since 1996. We hope you enjoy our New Guinea tribal art and Indonesian folk art as much as we do.
Art-Pacific.com by Carolyn Leigh is licensed under Creative Commons CC BY-ND 4.0