Japandai Village

Art-Pacific (Carolyn Leigh - Ron Perry): Guide to Sepik River Carvings
Japandai Village, East Sepik Province, Papua New Guinea
buy New Guinea figures from JungleOutpost.com and NewGuineaArt.com

Figure 1: Aibom meri with shell eyes and jewelry ( bilas), a grass skirt and human hair.
Japandai is across the river and not far upstream from Pagwi. It is considered to be part of the Middle Sepik. The carvers have a reputation for copying other village's mark or style in carvings made for sale.
The men carve a unique statue representing an Aibom woman carrying a Chambri pottery fireplace on her head. During a long conflict with a neighboring village, these statues were set up in the village and gardens with offerings placed in the "fireplace" in a successful effort to fight the competing sorcerers' black magic. This figure has become popular and is also carved in Yenchenmangua.
See also: Chambri Pottery
buy New Guinea art from JungleOutpost.com and NewGuineaArt.com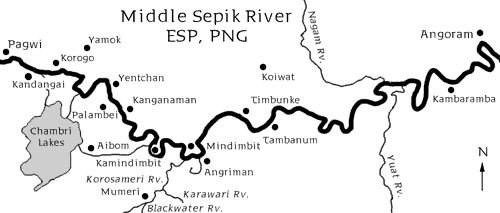 Order now: Art Dealer in the Last Unknown, Ron Perry and New Guinea Art, the early years: 1964 - 1973 by Carolyn Leigh and Ron Perry, 320 pages of adventure, over 450 early photographs - join Ron in the jungles of New Guinea on his search for tribal art.
Browse OCEANIC ART:
INDONESIAN ART:
CHINA - BAI TEXTILES:
Collecting New Guinea art in the field since 1964.
Art-Pacific Home | Site map | top of page

Photographs, text and maps copyright © Carolyn Leigh, 1996-2011. All rights reserved.
http://www.art-pacific.com/artifacts/nuguinea/sepikriv/sepikmid/japandai.htm
Contact Us
Artifacts on this site are collected in the field by my husband, Ron Perry. I take the photographs, do the html, text and maps. More background in Who We Are. Art-Pacific has been on the WWW since 1996. We hope you enjoy our New Guinea tribal art and Indonesian folk art as much as we do. Carolyn Leigh, P.O. Box 85284, Tucson, AZ 85754-5284 USA, Art-Pacific at http://www.art-pacific.com/