Palambei Village

Art-Pacific (Carolyn Leigh - Ron Perry): Guide to Sepik River Carvings
Palambei Village, East Sepik Province, Papua New Guinea
buy New Guinea figures from JungleOutpost.com and NewGuineaArt.com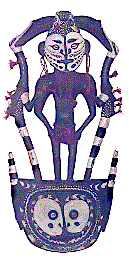 Palambei is a short, 20 minute walk off the Sepik past the extensive village gardens. The village was bombed during WWII and its stilt houses and Haus Tambarans destroyed. The towering house posts from some of the old structures still loom protectively over the long, grassy area between the two current Haus Tambarans.
Palambei women lay out their string bags, called bilums in Tok Pisin, for sale along this strip. Sepik bilums are strong, made with fairly heavy string and an open weave which expands to hold almost anything that needs carrying including babies. The designs are named. For example, one ribbed design is called "bone fish". Sometimes they are bilased with tassels, seeds or shells.
Women make small bilums for their close male relatives. The men carry cigarettes, money, betel nut and hunting or other magic charms in them. The large work bilums are the women's. A medium size is made for sale to tourists.
Palambei carvings are very open and curvilinear with lots of finely painted details. Birds associated with the clans are a favorite subject. Another one of their hooks is illustrated in the article on Basket Hooks in our Guide to Artifacts.
buy New Guinea art from JungleOutpost.com and NewGuineaArt.com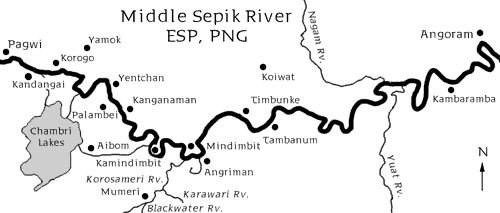 Order now: Art Dealer in the Last Unknown, Ron Perry and New Guinea Art, the early years: 1964 - 1973 by Carolyn Leigh and Ron Perry, 320 pages of adventure, over 450 early photographs - join Ron in the jungles of New Guinea on his search for tribal art.
Browse OCEANIC ART:
INDONESIAN ART:
CHINA - BAI TEXTILES:
Collecting New Guinea art in the field since 1964.
Art-Pacific Home | Site map | top of page

Photographs, text and maps copyright © Carolyn Leigh. 1996-2011. All rights reserved.
http://www.art-pacific.com/artifacts/nuguinea/sepikriv/sepikmid/palambei.htm
Contact Us
Artifacts on this site are collected in the field by my husband, Ron Perry. I take the photographs, do the html, text and maps. More background in Who We Are. Art-Pacific has been on the WWW since 1996. We hope you enjoy our New Guinea tribal art and Indonesian folk art as much as we do. Carolyn Leigh, P.O. Box 85284, Tucson, AZ 85754-5284 USA, Art-Pacific at http://www.art-pacific.com/