Imbando and Taway Villages

Art-Pacific (Carolyn Leigh - Ron Perry): Guide to Sepik River Carvings
Imbando and Taway Villages, East Sepik Province, Papua New Guinea
buy New Guinea art from JungleOutpost.com and NewGuineaArt.com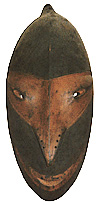 Imbando and Taway are a short motor canoe trip down from Angoram. This lower part of the Sepik widens out and is lined with long expanses of pitpit, wild sugar cane, (Saccharum spontaneum) the parent plant for domestic sugar cane. Pitpit is used for small fences and for walls in the stilt houses.
The villages are back in side channels off the main course of the Sepik. In these smaller channels and narrow barets, the canoes pass close to the vine-draped jungle. Metallic blue and butter yellow butterflies flutter past. Small green parrots and black cockatoos chatter in the canopy. Poking up through the jungle are flowering crests of the sago palms. Crocodiles are too wary to bask in the sun on the banks, but the villagers' crocodile prow canoes cluster along the bank below the temporary gardens and camps cut back into the cane.
The traditional red and black Imbando spirit mask curves in very subtle planes. Newer masks are more likely to have complex additional details and some of the elegant simplicity seems lost.
buy New Guinea art from JungleOutpost.com and NewGuineaArt.com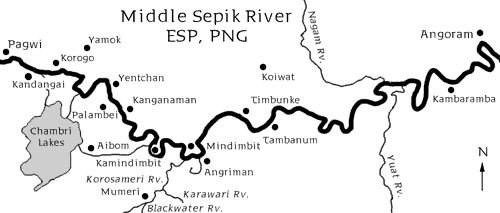 More articles/photos of NEW GUINEA MASKS:
Order now: Art Dealer in the Last Unknown, Ron Perry and New Guinea Art, the early years: 1964 - 1973 by Carolyn Leigh and Ron Perry, 320 pages of adventure, over 450 early photographs - join Ron in the jungles of New Guinea on his search for tribal art.
Browse OCEANIC ART:
INDONESIAN ART:
CHINA - BAI TEXTILES:
Collecting New Guinea art in the field since 1964.
Art-Pacific Home | Site map | top of page

Photographs, text and maps copyright © Carolyn Leigh, 1996-2011. All rights reserved.
http://www.art-pacific.com/artifacts/nuguinea/sepikriv/sepiklow/imbando.htm
Contact Us
Artifacts on this site are collected in the field by my husband, Ron Perry. I take the photographs, do the html, text and maps. More background in Who We Are. Art-Pacific has been on the WWW since 1996. We hope you enjoy our New Guinea tribal art and Indonesian folk art as much as we do. Carolyn Leigh, P.O. Box 85284, Tucson, AZ 85754-5284 USA, Art-Pacific at http://www.art-pacific.com/