Sepik River meri carvings

Art-Pacific (Carolyn Leigh - Ron Perry): Guide to Sepik River Carvings
Sepik River meri carvings, East Sepik Province, Papua New Guinea
buy New Guinea figures from JungleOutpost.com and NewGuineaArt.com
Figure 1: Sepik River meri figure with traditional clan face painting from Tambanum Village, ESP, PNG.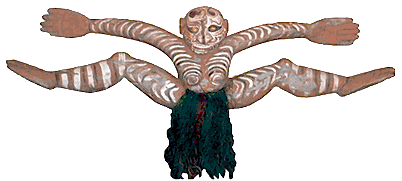 This style of Sepik River female figure is originally from Yenichenmangua Village.(1) Their carvings are usually plainer with no body painting. Tambanum Village carvers recently began making this primal woman. They often decorate her with their clan designs. One version has bat wings.
She is sometimes referred to as hewe-meri or two-kina meri because of her split-leg stance, but she is actually a protector of women. Her traditional name varies from village to village depending on the language group. She is said to have great protective power over women. If she sees a man abusing a women, she can turn him into woman. People will tell of hearing a story where this actually happened in the recent past.
Powerful female figures are common in clan stories. Many creation stories feature a woman who gives birth to the first members of the clan. She often discovers, or is given by a spirit animal or bird, the knowledge and tools that the villagers will need to survive in the jungle. A typical saying is that women had the power or discovered the knowledge, but the men took it from them.
The men's Haus Tambarans on the Sepik River are said to be female. One end gable frequently has a large split-leg carving of a powerful female ancestor figure as part of the roof beam supports.
Notes
(1) Alternate spellings and terms for:

Yenichenmangua: Yenchenmangua, Yensemangu,Yensemangwa, Yentchnmangua, Yentschmangua
buy New Guinea art from JungleOutpost.com and NewGuineaArt.com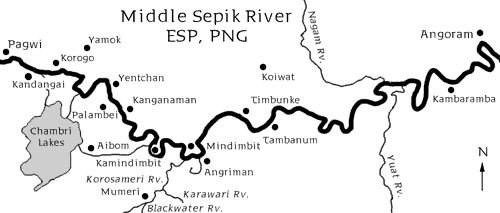 Order now: Art Dealer in the Last Unknown, Ron Perry and New Guinea Art, the early years: 1964 - 1973 by Carolyn Leigh and Ron Perry, 320 pages of adventure, over 450 early photographs - join Ron in the jungles of New Guinea on his search for tribal art.
Browse OCEANIC ART:
INDONESIAN ART:
CHINA - BAI TEXTILES:
Collecting New Guinea art in the field since 1964.
Art-Pacific Home | Site map | top of page

Photographs, text and maps copyright © Carolyn Leigh, 1996-2011. All rights reserved.
http://www.art-pacific.com/artifacts/nuguinea/sepikriv/sepikmid/yentmeri.htm
Contact Us
Artifacts on this site are collected in the field by my husband, Ron Perry. I take the photographs, do the html, text and maps. More background in Who We Are. Art-Pacific has been on the WWW since 1996. We hope you enjoy our New Guinea tribal art and Indonesian folk art as much as we do. Carolyn Leigh, P.O. Box 85284, Tucson, AZ 85754-5284 USA, Art-Pacific at http://www.art-pacific.com/