Yentchan Village

Art-Pacific (Carolyn Leigh - Ron Perry): Guide to Sepik River Carvings
Yentchan Village, East Sepik Province, Papua New Guinea
buy bilums from JungleOutpost.com and NewGuineaArt.com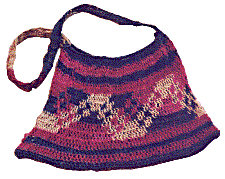 Figure 1: Small bilum or net bag. Bilum string is made from the inner bark of trees, pandanus fiber and other long-fibered plant materials. Sometimes additional decorative fur, feathers or other items are twisted into the string. The knotting technique uses a continuous figure eight.

Figure 2: Yentchan clan statue with man and hornbill bird.
Yentchan has a large Haus Tambaran sited on a bluff beneath the coconut palms that mark the location of permanent villages. Sometimes young boys scurry up to bring down fresh coconuts. A slice is cut off the top with a bush knife and the cool milk inside is refreshing on a hot, sticky afternoon. No one sits under the coconut palm; the falling nuts are deadly.
The women have bilas (shell jewelry) and bilums(string bags) for sale and sometimes the men have a few carvings.
buy bilums from JungleOutpost.com and NewGuineaArt.com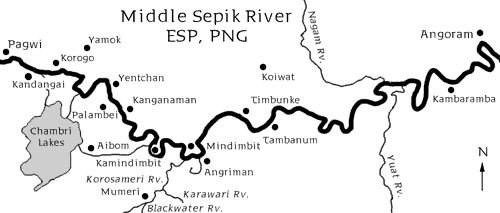 Order now: Art Dealer in the Last Unknown, Ron Perry and New Guinea Art, the early years: 1964 - 1973 by Carolyn Leigh and Ron Perry, 320 pages of adventure, over 450 early photographs - join Ron in the jungles of New Guinea on his search for tribal art.
Browse OCEANIC ART:
INDONESIAN ART:
CHINA - BAI TEXTILES:
Collecting New Guinea art in the field since 1964.
Art-Pacific Home | Site map | top of page

Photographs, text and maps copyright © Carolyn Leigh, 1996-2011. All rights reserved.
http://www.art-pacific.com/artifacts/nuguinea/sepikriv/sepikmid/yentchan.htm
Contact Us
Artifacts on this site are collected in the field by my husband, Ron Perry. I take the photographs, do the html, text and maps. More background in Who We Are. Art-Pacific has been on the WWW since 1996. We hope you enjoy our New Guinea tribal art and Indonesian folk art as much as we do. Carolyn Leigh, P.O. Box 85284, Tucson, AZ 85754-5284 USA, Art-Pacific at http://www.art-pacific.com/