Kanganaman Village

Art-Pacific (Carolyn Leigh - Ron Perry): Guide to Sepik River Carvings
Kanganaman Village, East Sepik Province, Papua New Guinea

Kanganaman's old Haus Tambaran was one of the most elaborately carved on the Sepik. Even in ruin, it was impressive. The village is located a short walk off the river. The carvers make elegant, sinuous figures including many suspension hooks (samban in Iatmul) with ancestor and crocodile figures. These carvings are expensive, even in the village, and so not many are bought for resale. They are usually finished with dark, soot-based paint.
See also our article on Basket Hooks in the Guide to Artifacts.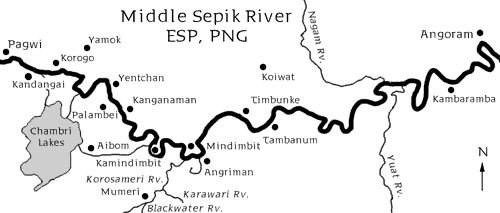 Order now: Art Dealer in the Last Unknown, Ron Perry and New Guinea Art, the early years: 1964 - 1973 by Carolyn Leigh and Ron Perry, 320 pages of adventure, over 450 early photographs - join Ron in the jungles of New Guinea on his search for tribal art.
Browse OCEANIC ART:
INDONESIAN ART:
CHINA - BAI TEXTILES:
Collecting New Guinea art in the field since 1964.
Art-Pacific Home | Site map | top of page

Photographs, text and maps copyright © Carolyn Leigh, 1996-2011. All rights reserved.
http://www.art-pacific.com/artifacts/nuguinea/sepikriv/sepikmid/kanganam.htm
Contact Us
Artifacts on this site are collected in the field by my husband, Ron Perry. I take the photographs, do the html, text and maps. More background in Who We Are. Art-Pacific has been on the WWW since 1996. We hope you enjoy our New Guinea tribal art and Indonesian folk art as much as we do. Carolyn Leigh, P.O. Box 85284, Tucson, AZ 85754-5284 USA, Art-Pacific at http://www.art-pacific.com/