Art-Pacific Home | Site map | Guide to Artifacts > New Guinea Artifacts > Guide to Sepik River Carvings > Lower Sepik River Carvings
Art-Pacific (Carolyn Leigh - Ron Perry): Guide to Artifacts
Lower Sepik River Carvings, East Sepik Province, Papua New Guinea
buy New Guinea art from JungleOutpost.com and NewGuineaArt.com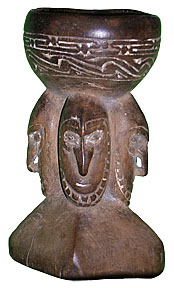 The Lower Sepik area begins between Tambanum and Angoram villages and continues out to the Bismarck Sea. The lower tributary rivers include the Yuat, the Keram and the Pora Pora. Their villages have distinct styles. Angoram and other lower Sepik villages, the coastal villages, the Murik Lakes and the off-shore islands share variations on a common style.
Lower Sepik carvings are usually male. Figures are slightly stooped. Faces are oval with beaked noses and diagonal eyes. Carvers highlight incised geometric detail with white lime which stands out on the simple, dark backgrounds. Contemporary carvers often add more color and more detail.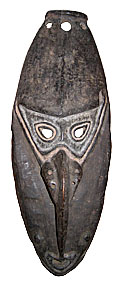 Bowls, mortars and utilitarian objects are carved for local use and also for trade. Trade and coastal migrations gave Lower Sepik and coastal villages more access to different ideas and this is often reflected in their art.
Figure 1: Contemporary Lower Sepik saw fish mask.
Figure 2: Lower Sepik betel nut mortar with four male faces and incised detail.
Figure 3: Lower Sepik mask with typical slanted eyes and elongated nose.
Figure 4: Biwat shield from the Yuat River.
buy New Guinea art from JungleOutpost.com and NewGuineaArt.com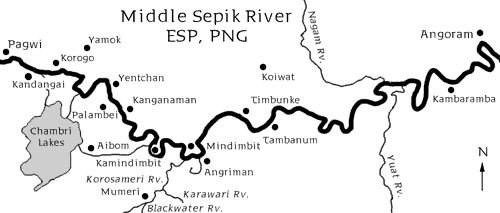 More articles/photos of NEW GUINEA MASKS:
Order now: Art Dealer in the Last Unknown, Ron Perry and New Guinea Art, the early years: 1964 - 1973 by Carolyn Leigh and Ron Perry, 320 pages of adventure, over 450 early photographs - join Ron in the jungles of New Guinea on his search for tribal art.
Browse OCEANIC ART:
INDONESIAN ART:
CHINA: BAI TEXTILES/ART:
Collecting New Guinea art in the field since 1964.

https://www.art-pacific.com/artifacts/nuguinea/sepikriv/sepiklow/sepiklow.htm | Contact Us | Art-Pacific at https://www.art-pacific.com/
Artifacts on this site were collected in the field by my husband, Ron Perry. I take the photographs, do the html, text and maps. Background in Who We Are. Art-Pacific has been on the WWW since 1996. We hope you enjoy our New Guinea tribal art and Indonesian folk art as much as we do.
Art-Pacific.com by Carolyn Leigh is licensed under Creative Commons CC BY-ND 4.0